PCM (Protection Circuit Module)
Protection Circuit Modules (PCM) protects the Li-Ion Battery Packs from heat, explosions and ignition by protecting voltage and currents against charging and discharging.
PCM Features
OVP : Over Voltage Protection

Protective function to prevent the Cell from heat, leaks, and explosion from overcharging

UVP : Under Voltage Protection

Protective function to prevent the Cell from discharging below usable voltage and protect from LIB oxidation due to discharge, life andcapacity reduction due to corrosion.

OCP & SCP : Over Current & Short Current Protect

Protects the LIB from over currents during charging and discharging currents, protection from over currents on heat generation, life reduction, and provides consumers body protection
PCM Block Diagram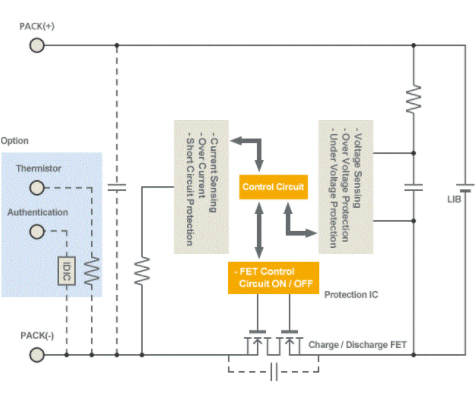 SM (Smart Module)
SM (Smart Module) is a circuit device that measures the remaining amount of battery as well as a protection function so that users can safely use the Li-Ion Battery Pack and provides it to the user.
Gas Gauge-Battery Monitoring
Since the battery capacity changes according to voltage, current, temperature, life cycle, etc., the status of each LIB is detected using a Gas Gauge IC and provided to the system.
It provides to display the usage time by state of the device currently in use by measuring the remaining amount of the battery by accumulating the charging/discharging current.
SM Block Diagram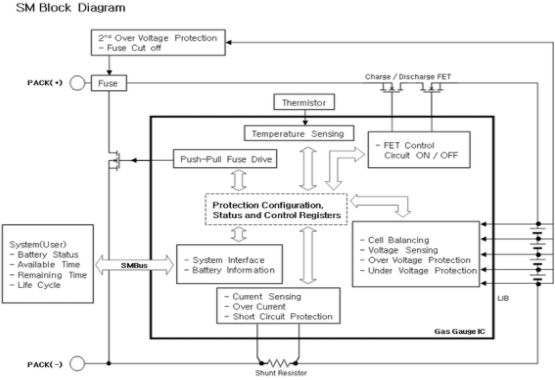 BMS (Battery Management System)
BMS (Battery Management System) monitors the condition of the battery, automatically manages the battery system so that it can be maintained and used in optimal conditions, predicts the replacement timing, and provides a role to detect and replace the battery in advance.
BMS Features
Measures the voltage, current, and temperature of the battery Overcharge, overdischarge, and overcurrent protection
Accurate battery level calculation
Battery status data transmission
Cell balancing control
Display battery information (cell and manufacturer information, etc.)
BMS